Content Writing for Your Blog: 7 Content Types to Consider

April Klazema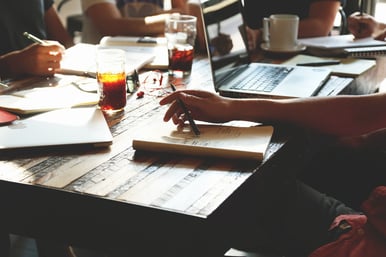 Everyone says it helps your business to have a blog, and they aren't wrong—but how often do those people follow up with suggestions on how to fill that blog? A blog that doesn't post regularly and doesn't share content writing relevant to readers will only leave you spinning your wheels. With more than 600 million blogs online today, publishing tens of millions of posts every day, it can be scary to feel like you're going to get lost in the noise.
With the right types of content targeted to your audience and enriched with keywords to make it discoverable, images to make it entertaining, and facts to make it valuable, you'll be on your way to success. So, what can you think about using to fill up your blog in ways that will impress readers and strengthen your brand's authority? Let's run down seven of the most popular content types for bloggers today.
1. News, Announcements, and Press Releases
Have something exciting to share about your business? Publish a press release directly to your blog. You can still run it through an official wire, but you should strive to make your blog the go-to place to find information about new developments. The same is true for other big moves for your business: adding a new staff member, expanding, and other developments are all excellent blog fodder. Keep your audience informed.
2. Upcoming Event News
Is your business hosting or participating in a promotional event soon? What about trade show appearances, local sporting events, or other places where your brand might appear? Post early and often about upcoming events and share the posts on your social media profiles. Drive traffic to your page and drive turnout to your event simultaneously.
3. How-To Blogs
Educating readers is one of the simplest ways to provide value, and the how-to article is no exception. It could be a guide to using one of your products, exploring when and why they might need a service you offer or a solution to a common pain point in your industry or target audience. Whatever it is, a step-by-step guide on how to accomplish something offers rich opportunities. The format works well for sharing information with skimming readers, too.
4. Listicles
Guess what? You're looking at a listicle—so something about them must work, right? One of the most popular article formats on the internet, listicles let you hit key points quickly while naturally incorporating your target keywords. Just like how-tos, they grab the reader's attention with bold headlines and sub-headers. With incredible flexibility, you can pick almost any topic relevant to your niche to write into a list.
5. Case Studies
42% of successful bloggers today include original research into their plans. What's something new that you could offer to your readers today? For B2B companies especially, the case study is a powerful tool that provides real insights to readers. Study your performance, work with clients to learn more, and derive new statistics to share with the web. Such original research shines a light on your brand's innovative efforts.
6. Trendy Topics
Is there a hot topic in your industry right now? Is there something new and exciting coming up in the news? Write about it, and don't delay. Capitalize on the momentum others created and use it to surf your way to a popular blog post—just make sure you have something to say. A hot take or a calculated yet controversial opinion might not be a bad thing to add to your content writing.
7. Personal Stories
From time to time, you can even find value in relating a personal anecdote from a major figure in the company that ties in to a campaign message, the business mission statement, or another tentpole element. These shouldn't appear obviously as marketing. Instead, use them to put a human face on the business and connect your products or services to real people in the real world.
Pick the Right Content for Your Brand to Build Out Its Blog
Not every type of content writing is suited for every blog—but there is incredible flexibility in these seven types of content when you dig deeper. Best of all, you can later re-purpose many of these types of content into other formats. Consider an explainer video based on a how-to post, or an infographic that uses the information you previously condensed into a listicle. By focusing your efforts on producing diverse blog posts, you boost your brand and set yourself apart as an authoritative author of quality content.