Content Writing Services Lighten Your Marketing Team's Load—Here's How

April Klazema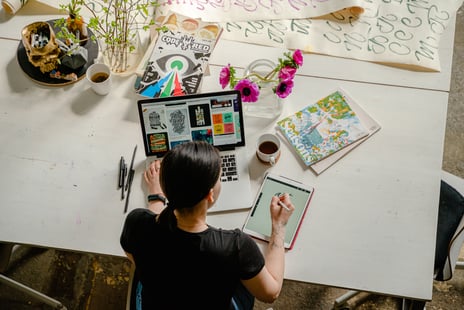 For many businesses, the first point of contact with new consumers is web content. It might be a blog, a social media post, or even a video, but at its core, it is marketing material that is self-produced and is intended to provide genuine value to your target audiences as well as marketing support to your brand.
Content writing services are only one aspect of larger, more comprehensive marketing plans developed by internal teams—and they can often become an early source of bottlenecks and frustration.
Writing excellent content requires understanding what your readers want to see, achieving a consistent brand voice, and ensuring that your content is easy to find online. While your marketing team might have an SEO expert or design professional on staff, you may not have in-house writers—or you may not have enough content support to achieve the consistency and volume that you need to sustain a robust campaign.
That's where a trusted third-party writing service becomes an invaluable asset. Learn how working with a third-party team lessens the burden on your internal teams while setting the stage for stronger results.
Scale Content Production Easily to Meet Challenging Goals
Many businesses attempt to keep content production 100% in-house at the start of their marketing campaign to manage costs. However, successful campaigns often require a semi-regular flow of new information. The internet moves at a rapid pace, and what attracts readers shifts quickly—sometimes daily.
When the time comes for your marketing to ramp up to a consistent calendar of content production, it may no longer be enough to rely on an internal team. Outside content writing services provide you with easy access to a larger pool of writers who can work together to keep you on target and hitting milestones on time.
Maintain Consistency in Voice Across Content
The voice of your content is a critical element in its success. The tone of content can range from warm and friendly to highly professional and informative. Choosing the right tone and keeping it the same across all your marketing channels is easier said than done—but a content service makes this task much simpler.
When you pair with one content agency and stick with them over the duration of a project, you gain a powerful advantage: consistency. You've already worked hard on building the branding and defining the character of your company—now, you can be sure that those elements remain in lockstep with each other, even over long-term content delivery projects.
Hit Specific Targets With Detailed Instructions
When you work with a third-party content provider, your marketing teams can focus on what they do best: planning, strategizing, and managing the big picture. They define the parameters and then hand the work over to your agency partner. When the work is complete, your team compares the content that they receive to their marketing guidelines with a clear view and objectivity that's harder to achieve when the same person who produced a piece is the one reviewing it.
Content services can even give your internal marketing team new information to analyze. For example, you might conduct extensive A/B testing on an early content series to determine which tones or approaches your target audiences respond to consistently.
Acquiring the text that you need to support this kind of testing is easier when you don't need to wait for an overburdened in-house team to make time to produce new content. Once you've analyzed the test results, you can choose the strongest direction for your content.
Easily Optimize Existing Content
Does your website or blog already have a substantial amount of older content from previous efforts? Perhaps this self-produced content doesn't live up to the SEO expectations that you have today, but the bones of the blogs are still worth saving. Turning to a content agency provides you with an opportunity to easily overhaul this content so that it meets your current standards and modern SEO best practices.
What might be a massive internal project becomes an easily managed effort when you distribute it among talented writers through qualified and dependable content services.
Explore Content Writing Services Today
With the opportunity to quickly add new capabilities to your team without an expensive talent search and hiring process, content writing services deliver significant and immediate value. Consider the potential impact that these services may have on your marketing ROI and your potential to reach new audiences.
At Klazema Communications, we offer proven experience backed by a diverse team of content writers who are ready to support your campaigns at any scale. Ask how we strengthen our partners with reliable content support today.