Does Your Blog Have a Content Strategy? An Intro to Content Calendars

April Klazema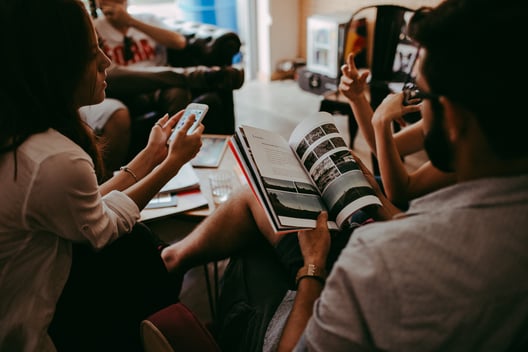 Is your content strategy more of an idea or a feeling, rather than a concrete action plan?
You aren't alone—but you aren't necessarily in good company. Content marketing is a cornerstone of digital strategies today partly because its goals are easy to understand. However, translating that understanding into a practical approach is not so simple. How many dead business blogs have you encountered online, where the last post was years ago? Users who land on your site and click on the blog looking for some insight only to discover stale content aren't likely to develop a favorable impression of your brand.
You can't build a skyscraper without a deep, solid foundation. Building a coherent and targeted strategy for content marketing demands structure in the same way. The most popular solution today is the content calendar—a method for creating a road map to follow for your content.
Why Use a Calendar to Plan Your Blog Content?
In a study by the Content Marketing Institute, 53% of the most effective B2B content marketers document their strategy. What makes a planning document such as the content calendar a useful tool?
Keep your ideas centralized in one place. Use your calendar for idea generation, forging connections between topics, and identifying where you have gaps to fill.
Avoid burnout and preserve a regular posting schedule. Keep your blog fresh and up-to-date without the need to produce so much content so quickly that the effort overwhelms you.
Make sure everyone's on the same page. As your content generation efforts grow, miscommunications can break down collaborative efforts in seconds. A calendar keeps the whole team focused.
Maintain a focus on the needs of running your business without the requirement to invest time continually into content ideation. Quickly consult the calendar to find opportunities to capitalize when new trends develop.
Knowing the benefits reveals the content calendar as a pillar of any successful strategy—so don't leave home without one. How do you get started?
Choose a Platform and Select Your Tools
A physical calendar can be an easy way to keep a reference close at hand, but it won't offer the flexibility you or your team need. Determine how you will build your calendar. Some businesses use spreadsheet templates shared online, while others opt for purpose-built platforms such as Trello or Evernote. Choose a solution that will let you map out your strategy in accessible detail.
Define What Each Calendar Entry Should Detail
A template for your content briefs is a good way to ensure consistency across posts. At a glance, project participants should be able to see information such as:
Topic and title
Keywords
Platform for publication
Audience and tone
Any important notes or relevant links
Building a template you can use to fill out each item on your calendar makes it simple to flesh out campaigns more quickly.
Determine How Far Ahead to Schedule
How far down the line should you plan your strategy? On the one hand, you should plan for a period long enough to make the shifts between planning, production, and planning again as smooth as possible. On the other, you'll need time to measure the effectiveness of your content and make changes as required. There is no one general answer here—some brands only plan two to three weeks out, while others may map out multiple months at a time.
Know When to Use Breaks and Pauses
Burnout is real, and it can derail even the best-planned calendars. Occasional gaps in production give your team a chance to rest and offer the opportunity to evaluate the effectiveness of your campaign. Know when audience fatigue can play a role, too. For example, with 85% of shoppers ticking off items on their holiday list online, you'll want to make a big push around the end of the year. Immediately after, you can often find time to take a breather and regroup. Don't miss those opportunities.
Build Your Calendar Around Core Ideas, Products, and Services
Think holistically about what your content strategy is trying to achieve. Are you exploring the benefits of a product or service? Are you offering educational resources for readers to use for improving their own work? What does your brand have to show that's unique in terms of insight and value? As you sketch out blog posts for the coming weeks, strive for answers to these questions that form a coherent marketing push.
Stay on Time and on Target
The content calendar is an immensely popular tool for a reason: it works. Coordinating your content strategy into a documented, standardized process can yield consistency, better posts, and more encouraging results as you continue to build up an archive. With the appropriate help in place to keep production on schedule, you can solidify the idea of your strategy into a concrete plan of action.