What Is Content Writing? A Quick Guide to Content SEO Basics for New Companies

April Klazema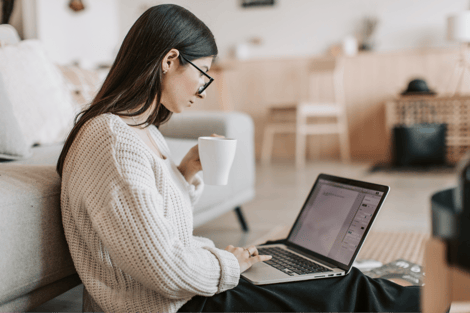 Starting a business is a big leap—it takes courage and determination to forge ahead and begin building something of your own. Along the way, you'll have a lot of things competing for your attention. All of them will have a role to play in your success. As you stand up your business, it's critical to start thinking early on about how you'll get the word out about your brand and what it can offer. That means learning the answers to key questions about content marketing, including "what is content writing?" and "how do I do SEO?"
Is the time right after launch really the right moment to invest your time and energy into digital marketing efforts? The answer is an obvious "yes." When you consider that less than 1% of users click results on the second page of Google, one thing becomes clear: you can't afford to stay stuck.
Producing good content and deploying smart SEO practices are complex undertakings, but everyone has to start somewhere, right? Let's look at what you need to know to form a strong foundation.
The 3 Key Things to Understand About Content Writing
The goal of your content can vary—it might be promoting a new product, sharing important industry news, or just answering common questions from buyers in your space. Content informs, educates, entertains, and engages readers. Combined with smart SEO techniques, better content is your gateway to better rankings.
With that in mind, there are a few key things to know to guide your investment in this space:
Strategy matters from the start. What is your goal? What will your content ultimately accomplish? You're not going anywhere until you answer these questions for your business.
Good content writing demands diversity. It's not only about what you publish on your blog. Content includes product and service descriptions, social media posts, and much more. Don't over-focus on just one area.
Consistency in quality and voice is vital. Readers notice errors and inconsistencies, and trust us—they'll judge you for it.
You could write volumes about the ins and outs of content writing—and many people have. If you don't have time to read War and Peace on the topic of "what is content writing?", here's the takeaway: for new businesses, an early investment in strategy for content will pay future dividends.
All About SEO: The Best Starting Points for Learning
Search engine optimization and content writing go hand in hand, but where do you begin? You didn't sign up to be a web engineer—you just want to run your business. Don't worry: you won't need to get into the nitty-gritty details of how search algorithms work to be successful.
Here's where you do need to start diving deeper:
Understand keyword selection. Immediately going for the most popular keywords you can imagine isn't the best approach when you could find long-tail keywords with slightly lower volume but more motivated users.
Embrace the importance of link-building. Good SEO stems from making your content visible. Guest-blogging and social media shares can help.
More is not always better. For new businesses, there is a tendency to adopt a "firehose" approach, spraying the web with as much content packed with as many keywords as possible. Rather than helping, this call works against you—Google penalizes "keyword stuffing," for one. For another, you need to give users time to find, read, and digest your content.
The research you do is just one part of the overall puzzle. You'll want to make sure you're thinking about the big picture—otherwise you'll miss important details. Here are a few more things to consider:
Metadata matters more than you think. A good meta description can earn you a nearly 6% boost in your clickthrough rate. When you're trying to gain traction as a new business, every click counts.
Titles that ask a question typically have a higher clickthrough rate. There's another lesson to learn here: producing content that answers common questions readers have is the best way to build an archive that shows value and authority.
SEO extends beyond structure and keywords. Consider Google's "EAT" approach to search ranking, or "expertise, authoritativeness, trustworthiness."
Building a Smart Strategy for Content and SEO
Winning SEO techniques aren't static. In fact, they change all the time—which means you need to be agile and on top of your company's strategy from the word "go." By answering questions such as "what is content writing?" for yourself, you can start thinking about the most cost-effective way to produce the results that you need—whether on your own or with a trusted content partner.